Appearance: Live Wire Radio's Ultimate Nerd-off
Posted October 10, 2009
1 comment posted. Read it now.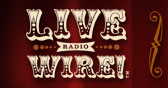 Where: Aladdin Theater, Portland Oregon When: October 10 2009, 8pm
Admission: $25

As part of the Wordstock Festival I'll be performing in the ultimate-nerdoff on LiveWire! the hip Portland answer to Prairie Home Companion. For those "Captain Freedom" trivia buffs, I first performed the very first iteration of his story, long before it was a novel, on LiveWire! in 2004.
This is a star-studded literary event, with appearances by bestselling thriller author Chelsea Cain, thriller legend James Ellroy ("LA Confidential"), poet/fiction writer/storyteller Sherman Alexie, and of course, me, somehow. It's quite an honor to be there for this evening and I can only imagine that since John Hodgman was there last year on LiveWire! my meteoric rise will follow.
Tickets are $25 and available at Ticketmaster - get 'em now, because this one will definitely sell out.